About CT ASHRAE's Newsletter
Our Newsletter is published on monthly basis from September-June. It is emailed to our members and non-member mailing list. In each issue we feature information about our montly dinner meetings, membership, special events, ASHRAE news, event photos, member spotlights and more!
Newsletter Advertising
We offer both classified ad space and business card advertising in our newsletter. For more information on advertising in our newsletter click here.
Our Editor
Chair


Blair Richardson, PE, CEM
BL Companies
e-mail: [email protected]


Signup for our Newsletter
Newsletter
March
The President's Message
March 2019

Hank Cullinane
We had an interesting discussion on Humidity in buildings in reference to health at the February meeting. Building codes require a minimum of 20% relative humidity, but they are looking at this from the building's perspective. Our speaker showed where for health reasons it is better to have 40% to 60% relative humidity for occupant comfort. There was not a lot of confidence that the code groups are looking to promote this though. During the questions and answers portion one of our members brought up that trying to maintain 40% to 60% RH could cause its own set of problems if there is not a good vapor barrier. The speaker agreed and said you must aware of the status of the vapor barrier.
Looking forward to the March meeting we are going to have the battle of Chilled Water vs DX. Our first panel discussion of the year will pit the pro and cons of both systems. Bring your questions and comments about why you use or don't use each one.
YEA had a successful networking event on Wednesday February 28th. The largest gathering this year for a YEA included drinks and appetizers at City Steam followed by a brisk walk to the Civic Center to attend the Wolfpack game. It was fun until the team fell apart in the third period. Please look for upcoming events from YEA including Go-Karts and the annual YEA vs Toys softball game.
Past President night is only a couple of months away, May 9th. For those past presidents please plan on attending it's great to see all the faces and we will take our Annual picture to add to the collection.
Hank Cullinane
CT ASHRAE
Chapter President
This home page is maintained by the Connecticut Chapter of the American Society of Heating, Refrigerating and Air-Conditioning Engineers, Inc. P.O. Box 143 Cromwell, CT 06416. ASHRAE chapters may not act for the Society and the information presented here has not had Society review. To learn more about ASHRAE activities on an international level, contact the ASHRAE home page at http://www.ashrae.org.
---
Meeting Announcement
March 2019 Dinner Meeting
Chilled Water vs Direct Expansion vs VRF
Panel Discussion
Order of Events:
5:00 PM to 6:00 PM - Tech Session (1 PDH)
5:45 PM to 6:45 PM - Registration, Networking & Cocktail Hour
6:45 PM to 7:15 PM - Dinner
7:15 PM to 8:30 PM - Dinner Session (1 PDH)
Tech Session: Fan Energy Index for ASHRAE 90.1, IECC, and Appliance Regulations
Tech Sessions Speaker: Armin Hauer, EBM-Papst
Tech Session Description:Fan Energy Index (FEI) is replacing Fan Efficiency Grade (FEG). Preview the ASHRAE 90.1-2019 fan efficiency requirement and learn how this wire-to-air metric helps fan specifiers to understand and communicate the design intent. Previous fan efficiency metrics were not suitable for ensuring energy savings. Fan selection determines the fan power consumption rather than fan peak efficiency. FEI will encourage more efficient fan designs, use of more efficient motors, and direct drives. Learn how fan suppliers use ANSI/AMCA 207 and 208 to support building energy standards, codes, and even appliance regulations.
Dinner Meeting: Chilled Water vs. Direct Expansion vs. VRF
Panel Discussion
Dinner Presentation Description: Chilled water or direct expansion (DX)? VRF or chilled beams? Which system is more efficient? Which is best for schools or multi-tenant buildings? Does building size play a role?
These are some of the questions that will be discussed at CT ASHRAE's next meeting. Please join us on March 14 for our first (in recent memory) panel discussion on the popular topic of which system is best for my application, chilled water, VRF, or DX systems? We will start the meeting with three 10-minute presentations, one on chilled water, VRF, and direct expansion. Seven local industry experts will field your questions for the remainder of the meeting in a panel discussion type forum.
Sharpen up your pencils and come prepared with your questions that you've always wanted to know about chilled water, VRF, and DX systems. General questions or technical questions, 1 year experience or 30 years' experience….nothing is too big or too small for our industry experts and no matter where you are in your career, this will be a learning experience you don't want to miss!
Dinner Sessions Speaker:
Chilled Water Presenters
Cary Mandeville, LEEP AP System Account Manager - Trane
Peter Anderson, P.E. Sr. Mechanical Consultant II - van Zelm Heywood & Shadford, Inc.
Steven Babin Territory Manager - Emerson Swan Canada
Steven Lamica Lead Applications Engineer - Dadanco
-VS-
Direct Expansion & VRF Presenters
Zach Koch Commercial Area Manager - Mitsubishi Electric Trane
Tom Lennon Regional Sales Manager - Aaon, Inc.
James Bates Regional VRF & Ductless Split Sales Manager - Johnson Controls HItachi
CLICK HERE FOR MORE INFORMATION
---
Calendar of Events
Mark your calendar for the 2018-2019 year!
3/14/19 - DX vs. Chilled Water Panel Discussion
4/11/19 - Acoustics & Variable Air Volume Meeting
5/09/19- Design, Bid, Build & Integrated Building Design Meeting
5/24/19 - Annual Golf Outing
---
Newsletter Sponsors
If you'd like your personal or business card to appear here, please contact the Sponsorship Committee today! Click Here to see the sponsorship oportunities!
---
Membership News
Membership Battle is Back!
Support ASHRAE membership within your firm and win the,
CT ASHRAE Leading Membership Award!!!
The company in each size category with the most ASHRAE members belonging to the CT Chapter by April 1, 2019 will receive the CT ASHRAE Leading Membership Award! Firms not able to compete with larger firms within their size category will receive the HonorableMention CT ASHRAE Membership Award if all employees are ASHRAE members(excluding clerical staff).
Stay tuned for an email next week with more information.
Become a member at www.ashrae.org and receive a $20 gift card or free meal at our monthly meeting!!!
(Must pay CT membership dues to be eligible for the gift card or free meal)
Click Here to learn more about the benefits of ASHRAE Membership!
Contact Tom Ruggiero for more information on becoming a member!
---
Young Engineers in ASHRAE
Whats new in yea?
YEA Wolfpack Hockey Networking Night!
We recently had the opportunity to attend a Hartford Wolfpack game with our YEA Chapter. The night began by meeting at City Steam Brewery right down the street. They were great hosts and our group ended up staying for appetizers and beer right up until the game. It was a thrilling match that ended with the Wolfpack losing the lead late in the third period. We wanted to say thank you very much to everyone who attended and please stay tuned for the next YEA event!
Interested in YEA? Contact Kevin Wixom at [email protected]
---
Student Activities
ASHRAE 2019 Winter Conference
By Justin Simko, Student Member, Univ. Hartford
The conference started with the student program at the Omni hotel in downtown Atlanta Georgia with a greeting from ASHRAE president Shelia Hayter, where she spoke about her involvement with the organization and her contributions as a student to initiate the student program. Recipients of last year's grant program presented their work on a dual use high efficiency variable speed dehumidifier, which was an insight into the level of quality the organization supports. A presentation from NASA researcher Dr. Christine Darden followed with her research in supersonic flight and sonic booms, which after forty years is now being used to develop new aircraft for commercial use by Lockheed Martin. Dr. Darden's talk was inspiring to hear about how she had to overcome many obstacles in her life and always persisted to achieve more no matter her circumstances.
Succeeding the presentations, the student program hosted multiple events providing the opportunity to learn more about other student branch chapters in the country as well as encouraging students to attend technical committee meetings the over the course of the conference. The student program did a great job at explain the conference structure and how each committee and seminar worked, as well as providing information on how to attend technical sessions if desired. Saturday evening the welcome party was held in the great hall of the Fernbank Museum of Natural History around some of the world's largest dinosaurs. It was an incredible opportunity to meet some of the long-time members of the organization and to connect with other student members across the world.
Sunday's activities started with a hands-on design challenge with fellow students followed by a technical presentation by Dr. Nadia Sabeh on her career in combining Agriculture and Mechanical Engineering to better design HVAC systems for indoor facilities including vertical farms, and greenhouses. Her presentation included views on sustainable farming as well as its long-term impacts on providing food resources to the world. A tour of the active construction site at Georgia Tech's new Kendada building followed the presentation. The project aims to become the most environmentally advanced educational and research building ever constructed in the Southeast by meeting some of the highest building performance standards in the world. The building will produce more energy than it uses with its 328 kw Photovoltaic array on the roof, and will treat and reuse all the water collected on site in its 50,000-gallon cistern tank. This project aims to achieve the most rigorous benchmark of sustainability in the built environment, the living building challenge, it is self-sufficient while using zero red listed materials in order to create a positive impact on the surrounding human and natural systems. The photo below shows the project and upper deck made of its salvaged two by sixes from nearby Atlanta studios that were scrapped after the deconstruction of film sets.
As a student interested in renewable energy and sustainable design this was an incredible way to understand some of the challenges in implementing these principals into practice. Also attending a technical newly offered technical session on solar pv and thermal system analysis and design provided insight into the tools used by industry professionals to create sustainable building systems.
The experience overall was an incredible way to have insights into how the industry as a whole function. Being able to attend technical sessions and learn new material that is used by practicing engineers was invaluable. Also, the expo provided exposure to the most common and new systems that are being used to achieve better designed buildings in all different size projects. I am grateful for the experience and want to thank CT ASHRAE and the Student Activities Committee for sponsoring me to attend the conference.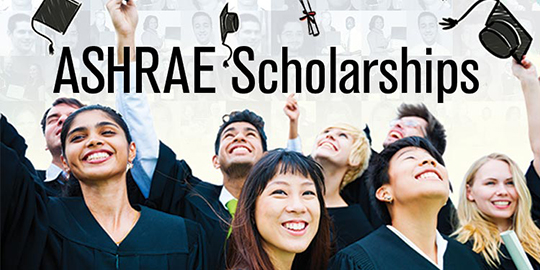 A new Student Membership Scholarship is available on the CT ASHRAE Student Activities Webpage. This new scholarship aims to aid our active CT ASHRAE student members by covering their membership fee +more. We have 10 available scholarships of $100 for our student members. The applicant must be a current student member in active status and fill out the application. That's all! Please visit the Student Activities Webpage or contact [email protected] for additional information.
If you or someone you know may be interested please visit the Student Zone at ASHRAE.org to learn more about ASHRAE's Scholarship and Grant Programs.
---
Annual Conference
2019 ASHRAE Annual Conference
Kansas City, MO | June 22–26, 2019

The 2019 ASHRAE Annual Conference will be held in Kansas City, June 22–26, 2019. The Technical Program along with Committee meetings, Registration, Bookstore, and Speakers Lounge will be held at the Kansas City Marriott and Kansas City Convention Center.
TECHNICAL PROGRAM
The 2019 ASHRAE Annual Conference technical program is comprised of eight tracks, selected to represent areas of focus common among ASHRAE membership.
1. Systems & Equipment in the Built Environment: Selection of equipment and systems is paramount to HVAC&R design. Papers and programs in this track will assist designers, engineers, and operators in the design, selection, and operation of HVAC&R systems and equipment.
Track Chair: Kimberly Pierson
[email protected]
2. Fundamentals and Applications: Fundamentals are the foundation for understanding applications in engineering. Key components of ASHRAE fundamentals include thermodynamics, psychrometrics, fluid and mass flow. This track provides opportunities for papers and presentations of varying levels across a large topic base.
Track Chair: Gary Debes
[email protected]
3. Optimization in HVAC&R: This track seeks programs focused on using models to inform decision-making for design and operation of HVAC&R and High Performance Buildings. Topics of interest include but are not limited to: novel optimization techniques and their application to HVAC&R, optimization of heat transfer surfaces, component optimization, system optimization, optimization of high performance buildings, model-predictive control and other methods focusing on minimizing first and operating costs of these systems.
Track Chair: Vikrant Aute
[email protected]
4. Commissioning New & Existing Buildings: With low energy and zero energy buildings becoming more prevalent, there are many issues that arise with installation, startup, commissioning and O&M. This track will address an array of topics including lessons learned, improvement of process and team communications and effort to improve the installation, startup, O&M and commissioning of HVAC systems.
Track Chair: Raul Simonetti
[email protected]
5. Occupant Health & Safety: Indoor air quality has become a vital consideration during all phases of a building's life as it is closely linked to comfort, occupant satisfaction, productivity and health. Topics including (but not limited to): filtration, change-overs, best practices for maintainability, fire ratings/dampers, detection and ventilation for toxic gases, operator safety in equipment rooms, OSHA requirements, industrial and hazardous spaces, and many other design aspects directly related to occupant health & safety.
Track Chair: Christine Reinders
[email protected]
6. Modeling Throughout the Building Life Cycle: The demands of energy efficient operation brought about the need for modeling of part-load operation for a variety of off-design conditions. Presentations and papers are solicited related to all aspects of building modeling, with a particular interest in successful applications that have extended modeling into operational phases of the building life cycle.
Track Chair: Nivedita Jadhav
[email protected]
7. Professional Development: This track is designed to allow those professionals an opportunity to develop in the areas of presentation skills, leadership, team-building, understanding various business operations, interpersonal skills, etc. In short, the Professional Development Track will cover all aspects of business outside of engineering/technical applications and lends itself to interactive session types such as workshops and forums.
Track Chair: Rupesh Iyengar
[email protected]
8. Research Summit: Active research, and the exchange of those research findings, are critical to the development of our HVAC&R industry and built environment.
Track Chair: Bing Liu
[email protected]
9. Radiant Heating & Cooling Mini-Track: As more and more jurisdictions and building owners are answering the call to establish higher energy-use standards for their construction projects, design teams are looking beyond traditional HVAC solutions to provide energy efficiency while maintaining occupant comfort and safety. Track Chair: Devin Abellon
[email protected]
For more information click here!
---
Grassroots
GOVERNMENT ADVOCACY COMMITTEE
State and Local Government Affairs
CT Energy and Technology Committee
PUBLIC HEARING AGENDA
Tuesday, March 5, 2019
10:00 AM in Room 2A of the LOB
1) S.B. No. 959 (RAISED) AN ACT CONCERNING THE CONNECTICUT GREEN BANK'S ELIGIBILITY AS A BORROWER FOR FEDERAL PROGRAMS.
2) S.B. No. 960 (RAISED) AN ACT CONCERNING MEMBERS OF THE CONNECTICUT GREEN BANK BOARD OF DIRECTORS AND THE PUBLIC UTILITIES REGULATORY AUTHORITY'S REVIEW OF CLAIMS ARISING FROM CONTRACTS PREVIOUSLY APPROVED BY THE AUTHORITY.
3) S.B. No. 961 (RAISED) AN ACT CONCERNING MUNICIPAL ELECTRIC UTILITIES AND MUNICIPAL ELECTRIC ENERGY COOPERATIVES.
4) H.B. No. 7115 (RAISED) AN ACT CONCERNING VIRTUAL NET METERING. (ET)
5) H.B. No. 7151 AN ACT CONCERNING ENERGY EFFICIENCY STANDARDS.
6) H.B. No. 7152 AN ACT ACCELERATING THE DEPLOYMENT OF 5G WIRELESS FACILITIES.
7) H.B. No. 7251 (RAISED) AN ACT CONCERNING LONG-TERM CONTRACTS FOR CERTAIN CLASS I GENERATION PROJECTS AND THE RESIDENTIAL SOLAR INVESTMENT PROGRAM AND REQUIRING A STUDY OF THE VALUE OF SOLAR.
8) H.B. No. 7252 (RAISED) AN ACT CONCERNING THE CONSERVATION ADJUSTMENT MECHANISM AND COMMERCIAL AND INDUSTRIAL CUSTOMERS
NYC Proposes Incorporating ANSI/ASHRAE Standard 211 and ASHRAE Certifications Into Local Law 87
The New York City Department of Buildings has issued notice of public rulemaking that would recognize ANSI/ASHRAE Standard 211-2011, Standard for Commercial Building Energy Audits as part of Local Law 87. This local law provides the city's regulations for energy audits and retro-commissioning. The amendments to the law also recognize ASHRAE Certified Building Energy Assessment Professionals and High-Performance Building Design Professionals and those who can perform the audits and retro-commissioning.
A public hearing on these additions to the local law will be held on March 12, 2019 beginning at 10:00 am in Spector Hall at 22 Reade Street in NYC. Comments may also be emailed to [email protected] or through the city website at http://rules.cityofnewyork.us/. The deadline for comments is March 12, 2019. Click here for more information and to view the proposed changes.
U.S. Congressional Activities
House and Senate Introduce "Green New Deal" Resolution
House Member Alexandria Ocasio-Cortez (D-NY) and Senator Ed Markey (D-MA) introduced their Green New Deal resolutions on February 7. The resolution expresses the goal to transition the U.S. away from fossil fuels and toward achieving net-zero greenhouse gas emissions. The 14-page resolution also calls for "upgrading all existing buildings in the United States and building new buildings to achieve maximal energy efficiency, water efficiency, safety, affordability, comfort, and durability, including through electrification." The House resolution has 89 Democratic cosponsors while the Senate has 11 cosponsors.
House Members Introduce Resolution Supporting Paris Agreement
Rep. Jared Huffman (D-CA-2) sponsored a resolution cosponsored by 65 House Democrats and Rep. Brian Fitzpatrick (R-PA) expressing support for the Paris Climate Agreement. The resolution also reaffirms the "United States is stronger when joining with global efforts to address climate change" and urges the U.S. not to withdraw from the agreement.
Hank Cullinane
GAC Committee Chair
---
2018-2019 Year
CT ASHRAE 2018-2019 Officers and Board of Governors
President: Hank Cullinane, Clover Corporation
President-Elect: Jason Urso, Tighe and Bond
Treasurer: Eric Fontaine, van Zelm Engineers
Secretary: Michael O. Davis, P.E., Flow Tech, Inc.
Board of Governor: Jason Bessette, Emerson Swan
Board of Governor (Past President): Derek Bride, CES
Board of Governor: Tony Cammilleri
Board of Governor: Evan Cohen, Aercon
Board of Governor: Daniel Cowan, NEMSI
Board of Governor: Bill Dunn, Aire Equipment
Board of Governor: Ashley Keller, CES
Board of Governor: Tom Ruggerio, AKF Group
Board of Governor: Kevin Wixom, Flow Tech, Inc.
---
Become a Sponsor
2018-2019 Sponsorships
ASHRAE reaches 475+ members and 250+ firms...
ASHRAE promotes professional growth, networkign, and experience...
ASHRAE provides education and technical contributions...
So – Become a Sponsor today to ensure these programs continue!
Meeting Sponsorship Opportunities (55+ avg monthly attendees):
Display Tray sponsor: $100 per meeting
Choose between a fruit and cheese, or hummus and veggie appetizer display tray
Complete with company name/logo included on meeting-specific communications, meeting webpage, that month's newsletter, cocktail hour slides and display table signage
Verbal recognition during podium time
Wine/Beer raffle sponsor: $100 per meeting
Benefits Student Activities Fund
Complete with company name/logo included on meeting-specific communications, meeting webpage, that month's newsletter, cocktail hour slides and registration table signage
Verbal recognition during podium time
Vendor Table sponsor: $100 per meeting
Complete with display table, company name/logo included on meeting-specific communications, meeting webpage, that month's newsletter, cocktail hour slides
Verbal recognition during podium time.
Triple Threat Package: $250 per meeting
Purchase a Display Tray, Wine/Beer Raffle and Vendor Table for the same meeting and receive $50 off!
Golf Sponsorship Opportunities:
Sponsorship Opportunities to be announced in January 2019.
Custom Opportunities:
We are more than happy to discuss creating a custom sponsorship opportunity for you. The CT Chapter frequently hosts YEA events that are also available to sponsor. Contact us today to start the discussion.
Have Questions or Want to Purchase Your Sponsorship?
To purchase a sponsorship via credit card, please visit our sponsorship catalog. Contact Scott Teller with the sponsorship committee for more information, or with questions.
---
Contact Us
Please note chairpersons with * in front of their names makeup the chapter's Board of Governors
President
860.632.1682
President-Elect
413.572.3226
Treasurer
860.284.5064
Secretary
860.221.0887
Committe Chairpersons 2017-2018
Auditing
Committee Chair Position Available
Chapter Regional Conference
Hank Cullinane- Delegate / Jason Urso - Alternate
Finance
Golf Outing/Special Events
Brandon Bradley 860.488.0384
Grass Roots Government Activities
Hank Cullinane 860.528.0081
Historian
Honors and Awards
Membership Promotion
Nominations
Publications/eNewsletter/Publicity
Blair Richardson 203.683.6942
Reception/Attendance
Refrigeration
Daniel Cowan 203.701.6165
Research Promotion
Sponsorship
Student Activities
*Ashley Keller 860.632.1682
Student Advisor
University of Hartford Professor C.C. Yavuzturk 860.768.5554 [email protected]
Student Advisor
University of New Haven Professor Stephen Ross 203.932.7148 [email protected]
Sustainability
Eric Fontaine 860.284.5064
Technology Transfer
Webmaster/Electronic Communications
Mike Davis 860.221.0887
YEA
*Kevin Wixom 860.221.0888
---
ASHRAE Social Media
Follow ASHRAE on Social Media
Check out the NEW CT ASHRAE page on Linkedin!
LinkedIn: CT ASHRAE
Want to stay up-to-date with all the latest and greatest news to hit the HVAC&R industry? Start following ASHRAE National on one of their many social media channels!
Linkedin: ASHRAE
Facebook: ASHRAE
Twitter: @ASHRAENews
YouTube: ASHRAEvideo
---