About CT ASHRAE's Newsletter
Our Newsletter is published on monthly basis from September-June. It is emailed to our members and non-member mailing list. In each issue we feature information about our montly dinner meetings, membership, special events, ASHRAE news, event photos, member spotlights and more!
Newsletter Advertising
We offer both classified ad space and business card advertising in our newsletter. For more information on advertising in our newsletter click here.
Our Editor
Chair


Blair Richardson, PE, CEM
BL Companies
e-mail: [email protected]


Signup for our Newsletter
Newsletter
April
The President's Message
April 2019

Hank Cullinane
Traveling has become an adventure. I was all set to be at the March meeting although I was planning to come straight from the airport. Then a bomb cyclone hit in the Midwest which closed the Denver airport and cancelled a ton of flights through Chicago. My flights were doing ok because I was flying up the east coast, then Trump grounded all the Boeing 737s. My connection flight was supposed to be on one of these planes and while they had an alternate plane for us the crew to fly was delayed. I did make it home, just many hour later than I expected. Thank you to the entire board for stepping up and handling everything with ease. It's nice having an excellent board.
I heard that the panel discussion went well and that we should do more meetings like this, so if you have ideas for a topic that would fit into a panel discussion please let one of the board members know. Eric Fontaine is planning the schedule for next year so if you have a topic you would like to see discussion please let him know. We only have two general membership meetings left for the 2018-2019 season so hopefully we will see you if you haven't made it to a meeting yet.
The golf outing is in full swing so please get your reservation and sponsorships in as soon as you can. The spots fill up fast and I don't want to see you miss out. We are at Keney Park again this year in Windsor CT. The course was well liked last year and it's a fun event to start off the memorial weekend early. Pricing goes up on April 27th so don't delay in registering.
May will also be out Past Presidents dinner so make sure you come out and greet the men and women have served the organization over the years.
As always if you have any questions or comments please don't hesitate to contact me.
Hank Cullinane
CT ASHRAE
Chapter President
This home page is maintained by the Connecticut Chapter of the American Society of Heating, Refrigerating and Air-Conditioning Engineers, Inc. P.O. Box 143 Cromwell, CT 06416. ASHRAE chapters may not act for the Society and the information presented here has not had Society review. To learn more about ASHRAE activities on an international level, contact the ASHRAE home page at http://www.ashrae.org.
---
Meeting Announcement
April2019 Dinner Meeting
Fan Technologies & Terminal Unit Acoustic Mistakes
Order of Events:
5:00 PM to 6:00 PM - Tech Session
5:45 PM to 6:45 PM - Registration, Networking & Cocktail Hour
6:45 PM to 7:15 PM - Dinner
7:15 PM to 8:30 PM - Dinner Session
Tech Session: Series vs Parallel Fan Powered: Which is more Energy Efficient?
Tech Session Description: It is a topic that many would argue formally began with the findings of ASHRAE Research Project 1292, and has since been hotly debated over the last number of years. While there are clearly many well-researched and supported opinions, this presentation will provide a concise summary of the findings of ASHRAE RP-1292, while also commenting on findings from the current research. The presenter will provide a brief introduction to the design and application of both series and parallel fan powered technology.
Dinner Presentation: Terminal Unit Acoustics: Avoiding Common Pitfalls
Dinner Presentation Description: The process of navigating terminal unit acoustics tends to present a daunting challenge for many Design Engineers, especially given the breath of architectural variation being employed in today's occupied spaces under Design. To properly tackle this challenge, it is critical for the Design Engineer to have a knowledge of acoustics which goes beyond the air terminal unit manufacturer's catalogue. This presentation will elaborate on foundational concepts, including sound sources, sound pathways, and a discussion on sound power levels and Noise Criteria (NC). The presenter will also discuss the differences between reverberant and in-situ sound testing, focusing on the proper application of each.
CLICK HERE FOR MORE INFORMATION
---
Calendar of Events
Mark your calendar for the 2018-2019 year!
4/11/19 - Acoustics & Variable Air Volume Meeting
5/09/19- Design, Bid, Build & Integrated Building Design Meeting
5/24/19 - Annual Golf Outing
---
We are in process of scheduling next years presentations and topics but would like to hear from the members if there is any particular topic of interest or desire to present. Please reach out to Eric Fontaine any topics or suggestions or presenters!
Special Events
2019 annual golf outing
Start Memorial Day Weekend the right way - with a fun day on the golf course with CT ASHRAE!
Date: Friday, May 24, 2019
Location: Keney Park Golf Course, 171 Windsor Ave., Windsor, CT 06095
REGISTER BEFORE APRIL 27th TO SAVE $20 PER PLAYER!
Raffle Tickets: Arm's Length (20 tickets) $20, Foursome Bargain (100 tickets) $80
Click Here for More Information!
Registration Includes:
- Golf Cart and Course Fees
- Breakfast Refreshments
- Open Grill for Lunch
- Appetizer and Buffet-style Dinner from Dish Restaurant Group
- Open Bar during Dinner
- Prize for Longest Drive
- Prize for Closest to the Pin
Thank You to Our Sponsors:
Golf Cart Sponsor: Aercon Corporation
Drink Cart Sponsor: Flow Tech, Inc.
Dinner Sponsor: THREE AVAILABLE!
Lunch Sponsor: AVAILABLE!
Breakfast Sponsor: AVAILABLE!
Closest to the Pin Sponsors: AVAILABLE!
Longest Drive Sponsor: Carrier Enterprise
Tee Sponsors:
Carrier Enterprise
Macri Associates
RST Thermal/RenewAire
Victaulic
Buckley Associates
Environmental Systems Corporation
MORE AVAILABLE!
Newsletter Sponsors
If you'd like your personal or business card to appear here, please contact the Sponsorship Committee today! Click Here to see the sponsorship oportunities!
---
Membership News
Welcome to our new members!
Kristopher Picard

Kevin May
Membership Battle is Back!
Support ASHRAE membership within your firm and win the,
CT ASHRAE Leading Membership Award!!!
The company in each size category with the most ASHRAE members belonging to the CT Chapter by April 1, 2019 will receive the CT ASHRAE Leading Membership Award! Firms not able to compete with larger firms within their size category will receive the HonorableMention CT ASHRAE Membership Award if all employees are ASHRAE members(excluding clerical staff).
Stay tuned for an email next week with more information.
Become a member at www.ashrae.org and receive a $20 gift card or free meal at our monthly meeting!!!
(Must pay CT membership dues to be eligible for the gift card or free meal)
Click Here to learn more about the benefits of ASHRAE Membership!
Contact Tom Ruggiero for more information on becoming a member!
---
Young Engineers in ASHRAE
ALLOCATE YOUR RP CONTRIBUTIONS FOR YEA PROGRAMS!
The YEA committee has teamed up with the RP Committee to give you the opportunity to direct your RP Campaign support directly to YEA programs. Society level YEA programs that will directly benefit from your campaign contribution include:
YEA Leadership Weekends – helping YEA members grow personally and professionally in a small group setting
Leadership U – creating a mentor relationship between YEA members and Society-level leaders at the Annual and Winter Conferences
HVAC Design Scholarship – giving YEA members the essential training in the fundamentals and technical aspects to design, install and maintain HVAC systems
YEA Introductions to Technical Committees – helping YEA Members become involved in the technical committees, the driving force behind all of ASHRAE's programs and research
Please use the online gift form and select the "YEA Programs" option. This will help ensure that YEA Society level activities continue to expand the opportunities for professional and personal growth of members like you.
Interested in YEA? Contact Kevin Wixom at [email protected]
---
Student Activities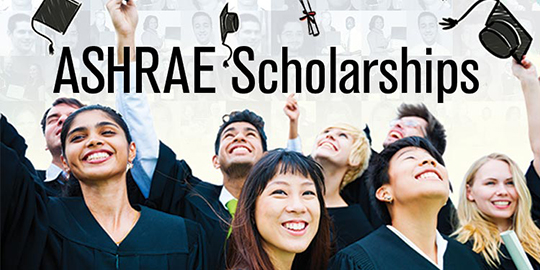 A new Student Membership Scholarship is available on the CT ASHRAE Student Activities Webpage. This new scholarship aims to aid our active CT ASHRAE student members by covering their membership fee +more. We have 10 available scholarships of $100 for our student members. The applicant must be a current student member in active status and fill out the application. That's all! Please visit the Student Activities Webpage or contact [email protected] for additional information.
If you or someone you know may be interested please visit the Student Zone at ASHRAE.org to learn more about ASHRAE's Scholarship and Grant Programs.
---
Annual Conference
2019 ASHRAE Annual Conference
Kansas City, MO | June 22–26, 2019

The 2019 ASHRAE Annual Conference will be held in Kansas City, June 22–26, 2019. The Technical Program along with Committee meetings, Registration, Bookstore, and Speakers Lounge will be held at the Kansas City Marriott and Kansas City Convention Center.
TECHNICAL PROGRAM
The 2019 ASHRAE Annual Conference technical program is comprised of eight tracks, selected to represent areas of focus common among ASHRAE membership.
1. Systems & Equipment in the Built Environment: Selection of equipment and systems is paramount to HVAC&R design. Papers and programs in this track will assist designers, engineers, and operators in the design, selection, and operation of HVAC&R systems and equipment.
Track Chair: Kimberly Pierson
[email protected]
2. Fundamentals and Applications: Fundamentals are the foundation for understanding applications in engineering. Key components of ASHRAE fundamentals include thermodynamics, psychrometrics, fluid and mass flow. This track provides opportunities for papers and presentations of varying levels across a large topic base.
Track Chair: Gary Debes
[email protected]
3. Optimization in HVAC&R: This track seeks programs focused on using models to inform decision-making for design and operation of HVAC&R and High Performance Buildings. Topics of interest include but are not limited to: novel optimization techniques and their application to HVAC&R, optimization of heat transfer surfaces, component optimization, system optimization, optimization of high performance buildings, model-predictive control and other methods focusing on minimizing first and operating costs of these systems.
Track Chair: Vikrant Aute
[email protected]
4. Commissioning New & Existing Buildings: With low energy and zero energy buildings becoming more prevalent, there are many issues that arise with installation, startup, commissioning and O&M. This track will address an array of topics including lessons learned, improvement of process and team communications and effort to improve the installation, startup, O&M and commissioning of HVAC systems.
Track Chair: Raul Simonetti
[email protected]
5. Occupant Health & Safety: Indoor air quality has become a vital consideration during all phases of a building's life as it is closely linked to comfort, occupant satisfaction, productivity and health. Topics including (but not limited to): filtration, change-overs, best practices for maintainability, fire ratings/dampers, detection and ventilation for toxic gases, operator safety in equipment rooms, OSHA requirements, industrial and hazardous spaces, and many other design aspects directly related to occupant health & safety.
Track Chair: Christine Reinders
[email protected]
6. Modeling Throughout the Building Life Cycle: The demands of energy efficient operation brought about the need for modeling of part-load operation for a variety of off-design conditions. Presentations and papers are solicited related to all aspects of building modeling, with a particular interest in successful applications that have extended modeling into operational phases of the building life cycle.
Track Chair: Nivedita Jadhav
[email protected]
7. Professional Development: This track is designed to allow those professionals an opportunity to develop in the areas of presentation skills, leadership, team-building, understanding various business operations, interpersonal skills, etc. In short, the Professional Development Track will cover all aspects of business outside of engineering/technical applications and lends itself to interactive session types such as workshops and forums.
Track Chair: Rupesh Iyengar
[email protected]
8. Research Summit: Active research, and the exchange of those research findings, are critical to the development of our HVAC&R industry and built environment.
Track Chair: Bing Liu
[email protected]
9. Radiant Heating & Cooling Mini-Track: As more and more jurisdictions and building owners are answering the call to establish higher energy-use standards for their construction projects, design teams are looking beyond traditional HVAC solutions to provide energy efficiency while maintaining occupant comfort and safety. Track Chair: Devin Abellon
[email protected]
For more information click here!
---
Grassroots
GOVERNMENT ADVOCACY COMMITTEE
State and Local Government Affairs
Connecticut Bills that have made it out of the Energy and Technology Committee
| | | |
| --- | --- | --- |
| | AN ACT CONCERNING A GREEN ECONOMY AND ENVIRONMENTAL PROTECTION. | |
| | AN ACT CONCERNING ENERGY EFFICIENCY STANDARDS. | |
| | AN ACT CONCERNING THE PROCUREMENT OF ENERGY DERIVED FROM OFFSHORE WIND. | |
| | AN ACT CONCERNING THE INSTALLATION OF CLASS I RENEWABLE ENERGY SOURCES ON STATE LAND NEAR PUBLIC HIGHWAYS. | |
| | AN ACT CONCERNING MARKINGS MADE PURSUANT TO CALL BEFORE YOU DIG REQUIREMENTS. | |
| | AN ACT EXPANDING CONNECTICUT'S OFFSHORE WIND ENERGY PORTFOLIO. | |
NYC Proposes Incorporating ANSI/ASHRAE Standard 211 and ASHRAE Certifications Into Local Law 87
The New York City Department of Buildings has issued notice of public rulemaking that would recognize ANSI/ASHRAE Standard 211-2011, Standard for Commercial Building Energy Audits as part of Local Law 87. This local law provides the city's regulations for energy audits and retro-commissioning. The amendments to the law also recognize ASHRAE Certified Building Energy Assessment Professionals and High-Performance Building Design Professionals and those who can perform the audits and retro-commissioning.
A public hearing on these additions to the local law will be held on March 12, 2019 beginning at 10:00 am in Spector Hall at 22 Reade Street in NYC. Comments may also be emailed to [email protected] or through the city website at http://rules.cityofnewyork.us/. The deadline for comments is March 12, 2019. Click here for more information and to view the proposed changes.
U.S. Congressional Activities
U.S. Congress Holds Hearings on the DOE Budget
Congress has begun holding appropriations hearings this week after receiving the fiscal 2020 budget request that President Donald Trump released on March 11. The Administration's budget proposes several cuts to programs at the Department of Energy (DOE) including an 85.6% cut to the Energy Efficiency and Renewable Energy (EERE) office.
The Energy and Water Development, and Related Agencies Subcommittee of the House Appropriations Committee held a hearing on March 26 focusing on the DOE's budget. Secretary of Energy Rick Perry testified at the hearing. In the Senate, the Energy and Water Development Subcommittee of the Appropriations Committee will also hold a hearing on the DOE's budget. It will take place on March 27 at 2:30 p.m and Secretary Perry is again scheduled to testify. That hearing can be viewed here.
Hank Cullinane
GAC Committee Chair
---
2018-2019 Year
CT ASHRAE 2018-2019 Officers and Board of Governors
President: Hank Cullinane, Clover Corporation
President-Elect: Jason Urso, Tighe and Bond
Treasurer: Eric Fontaine, van Zelm Engineers
Secretary: Michael O. Davis, P.E., Flow Tech, Inc.
Board of Governor: Jason Bessette, Emerson Swan
Board of Governor (Past President): Derek Bride, CES
Board of Governor: Tony Cammilleri
Board of Governor: Evan Cohen, Aercon
Board of Governor: Daniel Cowan, NEMSI
Board of Governor: Bill Dunn, Aire Equipment
Board of Governor: Ashley Keller, CES
Board of Governor: Tom Ruggerio, AKF Group
Board of Governor: Kevin Wixom, Flow Tech, Inc.
---
Become a Sponsor
2018-2019 Sponsorships
ASHRAE reaches 475+ members and 250+ firms...
ASHRAE promotes professional growth, networkign, and experience...
ASHRAE provides education and technical contributions...
So – Become a Sponsor today to ensure these programs continue!
Meeting Sponsorship Opportunities (55+ avg monthly attendees):
Display Tray sponsor: $100 per meeting
Choose between a fruit and cheese, or hummus and veggie appetizer display tray
Complete with company name/logo included on meeting-specific communications, meeting webpage, that month's newsletter, cocktail hour slides and display table signage
Verbal recognition during podium time
Wine/Beer raffle sponsor: $100 per meeting
Benefits Student Activities Fund
Complete with company name/logo included on meeting-specific communications, meeting webpage, that month's newsletter, cocktail hour slides and registration table signage
Verbal recognition during podium time
Vendor Table sponsor: $100 per meeting
Complete with display table, company name/logo included on meeting-specific communications, meeting webpage, that month's newsletter, cocktail hour slides
Verbal recognition during podium time.
Triple Threat Package: $250 per meeting
Purchase a Display Tray, Wine/Beer Raffle and Vendor Table for the same meeting and receive $50 off!
Golf Sponsorship Opportunities:
Sponsorship Opportunities to be announced in January 2019.
Custom Opportunities:
We are more than happy to discuss creating a custom sponsorship opportunity for you. The CT Chapter frequently hosts YEA events that are also available to sponsor. Contact us today to start the discussion.
Have Questions or Want to Purchase Your Sponsorship?
To purchase a sponsorship via credit card, please visit our sponsorship catalog. Contact Scott Teller with the sponsorship committee for more information, or with questions.
---
Contact Us
Please note chairpersons with * in front of their names makeup the chapter's Board of Governors
President
860.632.1682
President-Elect
413.572.3226
Treasurer
860.284.5064
Secretary
860.221.0887
Committe Chairpersons 2017-2018
Auditing
Committee Chair Position Available
Chapter Regional Conference
Hank Cullinane- Delegate / Jason Urso - Alternate
Finance
Golf Outing/Special Events
Brandon Bradley 860.488.0384
Grass Roots Government Activities
Hank Cullinane 860.528.0081
Historian
Honors and Awards
Membership Promotion
Nominations
Publications/eNewsletter/Publicity
Blair Richardson 203.683.6942
Reception/Attendance
Refrigeration
Daniel Cowan 203.701.6165
Research Promotion
Sponsorship
Student Activities
*Ashley Keller 860.632.1682
Student Advisor
University of Hartford Professor C.C. Yavuzturk 860.768.5554 [email protected]
Student Advisor
University of New Haven Professor Stephen Ross 203.932.7148 [email protected]
Sustainability
Eric Fontaine 860.284.5064
Technology Transfer
Webmaster/Electronic Communications
Mike Davis 860.221.0887
YEA
*Kevin Wixom 860.221.0888
---
ASHRAE Social Media
Follow ASHRAE on Social Media
Check out the NEW CT ASHRAE page on Linkedin!
LinkedIn: CT ASHRAE
Want to stay up-to-date with all the latest and greatest news to hit the HVAC&R industry? Start following ASHRAE National on one of their many social media channels!
Linkedin: ASHRAE
Facebook: ASHRAE
Twitter: @ASHRAENews
YouTube: ASHRAEvideo
---